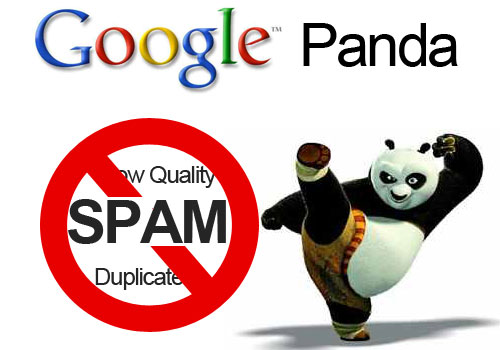 The Google Panda Update shocked the SEO world and changed a lot of approaches by webmasters forever.  Panda's main aim and focus is at eliminating or lowering low quality websites from the Google search results – namely spammers, and increasing the rankings of high quality websites.  While it has done a relatively good job at removing a lot of these poor results, it has also inadvertently had a negative impact on the rankings of a lot of high quality websites too.  It left many people wondering how to recover, or how to prevent any loss in rankings as even slipping three places could mean the difference of losing thousands of dollars or leads.  If you have analytics tracking on your website you can pinpoint the exact time that your website either took a significant increase in rankings or drop; then look at the Panda release dates to see a correlation.
Many hit by Panda dropped fifty places overnight in the search results, or were completely removed altogether.  If you want to try and recover a website, or avoid being subjected to the wrath of Panda, then you need to follow Google's high quality guidelines exactly as they are stated.  If you think you have been wrongly hit by Panda or any other Google update they do allow you to submit a request for review, however in the meantime it would be best to understand Panda and how to avoid being a victim as it will only continue evolving in the future to provide a better web experience for searchers.  Read on for our recommendation on the top three Panda SEO tips you must obey.
Google Panda SEO Tips
#1 – No Thin Pages or Thin Websites
A common practice by spammers is to create hundreds of very thin low quality websites, which Panda has directly attacked.  These websites may have very limited content or content on the homepage only. They may also contain a very small amount of indexed pages which is one signal that it may be a low quality website.  To avoid or rectify these issues, make sure that your website is full of high quality pages and content that is geared towards providing value to the visitor.  Aside from your standard pages (ie: contact or about page) every page on your website should have a minimum of 300-400 words on the page if possible.  Remove low quality outdated pages or add content to them and make sure that you follow this guideline from here on out.  It is proven that having poor or low quality pages on your website can affect the rankings and quality of your entire website and not just for that page.  Keep adding high quality and valuable content to your website and you will strengthen your website as a whole.
#2 – NO Duplicate or Spun Content
In an effort to remove low quality websites, Panda has also taken aim at websites that have a lot of duplicate or copied content on their websites.  Never post an article or other resource on your website that has been copied verbatim from another source on the web.  I understand that sometimes it is necessary if it is a direct quote or a speech, however you can surround this content with unique content and as long as your website has significantly more unique content versus duplicate, you should be in the clear.  This also goes for owning more than one website and providing the exact same content on it as the other which I talked about in a previous blog post called 10 onsite optimization tips, and watching out for how your website is setup and indexed as to not allow duplicate indexation.   Another issue is actually using your own duplicate content on the same website too.  If you have a disclaimer or section of text that is repeated on lots of your pages with very little other content on the page, this could be seen as low quality and affect your rankings.
Since most spammers do not take the time to write their own content or provide quality content, using duplicate content to rank sites quickly was a common practice and is why it has come under fire.  Spun content on the other hand is when duplicate content is either manually altered or through the use of a program so that it is changed just enough to pass as unique.  If done manually it can provide high quality value as many news stories are manually spun by writers for example, however the problem with programs is that it often provides a poor quality article that is unreadable; as it is changed at the verb or word level versus the sentence level.  The end result is something that will pass and is for search engines only and not the end user or reader; mostly abused and used by spammers.
#3 – Encourage Social Signals
Again, Panda is all about quality and value being provided to the visitors of a website.  If you create content that is valuable it is likely to be shared.  Place social network sharing buttons on your blog posts and other relevant pages as social signals can help improve your websites ranking and quality.  Content that gets shared in Google's eyes must be high quality, informative and full of value otherwise why would people share it?  At the very minimum I suggest that you implement a Facebook Like button, Twitter tweet button, and a Google + button.  Not only can social signals increase your backlinks and rankings, but it can also be another source of high quality traffic and brand awareness; and it's free and easy to do.
About the author