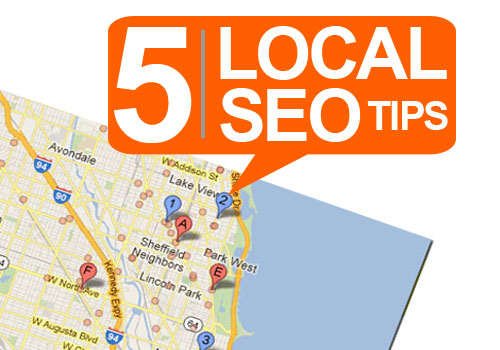 Local SEO can be an amazing resource and provide exceptional value to a company who is looking to expand its reach. It is estimated that approximately 20% of all searches are local searches. By optimizing your website or presence online for local search terms, you can create more trust in those who find you online and tap into a market that offers instant connectivity around the clock.  Search engine optimization at the local level traditionally focuses on your immediate residence where you do business, however if you are an online only company, you may also choose local SEO for many different locales targeting these groups of people.  If you owned a pizza shop, it would be of significant value to appear high in the search results for a keyword such as "city name pizza" or "pizza parlor in city name."  Below are five SEO tips that will help improve your local SEO rankings.
#1 – Ensure Accuracy on All Listings
Maintaining your online presence is extremely important for both end users/potential customers and for your rankings.  If your address changes or you phone number changes for example, you need to update that across all of your businesses listings including more than just your website.  Google local puts together citations (listings of your business online) based on your business which helps to increase your local rankings in Google+ (formerly Google Places).  The more citations the better your rankings will typically be, though if your business is seen at many different addresses and numbers it can have a negative impact on your local rankings because the results aren't deemed as trustworthy.
#2 – Master Keyword Research
Don't guess on what search terms you think are popular, get the cold hard facts.  Use Google's adwords external keyword tool (make sure to tick the exact box on the left column) to find out keywords and suggestions of keywords that are searched each month.  The numbers per month locally don't lie.  Please note that the competition bar also does not mean the competition to rank for that keyword in the search results, it is the competition for advertisers bidding on that keyword for adwords campaigns.  We've encountered clients that wanted to be ranked for keywords that would provide no value because they were searched maybe 1 to 3 times a month or even zero.  Instead our team did proper keyword and competition research and provided a list of alternative keywords that would bring the ROI that they were looking for.  Keyword research is by far one of the most important aspects of search engine optimization both locally and nationally.  Long tail keywords (ie: "buy widget x in city name" vs. "widget x city name") are usually much more valuable because they are more targeted and often less competitive.
#3 – Don't Ignore Image SEO
Most website owners and even some SEO specialists often ignore images and image optimization for local search terms.  When you add business and relevant photos to your blog post or pages, be sure to include your targeted keyword for that page in the images alt tag.  People love to see photos, but they can also generate additional sources of visitors.  Use location and keyword specific titles and alt tags to generate more local traffic.  Image traffic has become increasingly popular and is a great way to increase your exposure if done correctly.
#4 – Understand and Use Site Analytics
Using an analytics program like Google Analytics or GetClicky can provide you with valuable insight into how people are reaching your site, how many visitors you receive (increased local search visibility should bring increased traffic), what pages are the most popular, what search terms they searched for, how long they stayed on your website and much more.  Using software like this allows you to track traffic patterns, and see long tail keywords that you may have never thought of before that people are searching to get to your website.  With some research, you can find out if it is worth it to improve or optimize for these keywords as well as strengthen less popular pages and make sure your highly visited ones are doing what they were intended to do; convert.
#5 – Keep an Active Locally Focused Blog
If you already have a blog setup on your website, use it!  If not, I would encourage you to set one up immediately and not use a separate platform like blogger.  Keeping the blog on your website will increase the amount of indexed pages your website has in the search engines and increase its authority.  For a local approach, you can publish blog posts about upcoming trade shows you will be attending, or blog about other local events.  It would suit you well to do your research on the keywords surrounding these events so that you can maximize your traffic.  When a local person is searching for information about a certain event or something related to your local area and your blog posts are highly visible in the search engines, this offers more exposure/brand awareness for you and the potential for more customers.
About the author