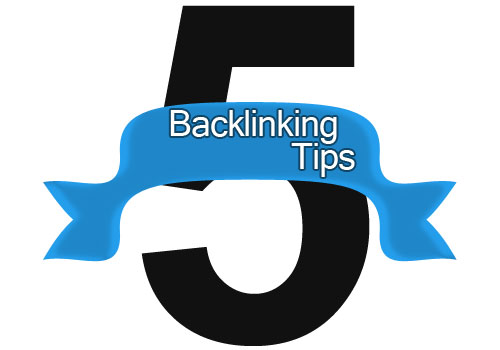 It's usually pretty easy to understand what a backlink is and what it does. When you break it down, almost everyone has created a backlink even if they don't understand or actively build backlinks for search engine optimization purposes. When you want to share a website on your blog, social network, or other medium, you naturally share the link to others so that they can visit it. This is a backlink, but there is much more to grasp and understand when building backlinks for SEO than just the mere definition of what a backlink is. Below you will find five useful tips for building backlinks.
#1 – Slow and Steady Wins the Race
Search engine optimization is all about consistency and longevity.  SEO takes time and patience, but when done properly it can have lasting results that far outweigh choosing blackhat techniques which offer short term gains, or going for a more immediate and often expensive approach such as pay-per-click.  Backlinking is far more worthwhile creating 1 to 3 links per day, versus blasting your site with hundreds or even thousands of links all in a single shot.  With a slow and steady approach you won't get burnt out, your links will likely stick better, and over time you will have an excellent backlink profile that is varied and indexed in steady and natural increments which search engines love.
#2 – Quality Over Quantity
Just as you should be building links at a slow and steady pace, you should also be focusing on high quality links.  Sure you need some relatively low quality links too as it would be natural to not have all high quality links, but the focus of your efforts should be on high quality links.  What is a high quality link? You should be focused on acquiring backlinks on pages that are aged, from reputable sites, contain a PageRank of 1 or above, and are indexed for example.  These can be done from Web2.0 sites, guest posts, commenting, forum posting, and more.  One high quality backlink will be much more beneficial in terms of ranking versus a high number of low quality links.  Shy away from any too good to be true services, and don't use automated programs to point mass amounts of links directly at your website.
#3 – Pick WWW. or NON-WWW. and Stick With it
Most modern and popular browsers do not require you to use www. before a website any longer in order to reach that website.  When you build links, if your website has always been www then you should stick with that and not use the shorthanded variation without the World Wide Web or www before it.  In all likelihood even if you have never built any links or done SEO, you will likely have naturally and organic backlinks using the www.  You may use a redirect in order to pass all link juice to each one, however to be safe, just use one and stick with it.  Traditionally, most search engine algorithms have and do treat each as an entirely different website.  For example, for link building, http://webdigia.com and http://www.webdigia.com would be treated as two different websites even though they are not.
#4 – Use 301 Redirects if Changing a Website or Web Page
Whenever you intend to revamp your website, or change a page to a new URL, you should 301-redirect all the traffic to that page; to the new page.  A 301 redirect is known by search engines as a permanent redirect and will pass all backlink juice to the new page so that you do not have to completely start your SEO and backlinking efforts over.  Using a 302 redirect is fine, so long as the page will be replaced exactly as it was before.  302 redirects are seen by search engines as a temporary redirect and will not pass link juice because they believe this redirection is only temporary and that the original page will be returning.  To be safe and retain links to inner pages which can inflate the rankings of your entire site, use a 301 redirect.
#5 – Build Backlinks on Many Different Domains and IPs
You will hear it time and time again with SEO – you need a very diverse backlink profile that is quality focused, natural and from varying destinations.  When you build backlinks, try to obtain them from many different websites and IPs.  The power of having hundreds of backlinks on the same website is substantially limited versus having hundreds of backlinks from hundreds of different places.  If search engines like Google (algorithm) detect that you have the majority of your backlinks coming from the same servers, websites or other similar indications, your hard work may be devalued and be flagged as unnatural link building and you could lose most or all of the link juice it should be providing.  Remember; diversification is key!
About the author